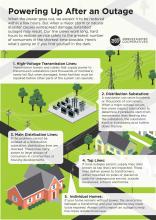 How long will my power be out?
Outage restoration time depends on a variety of factors such as inclement weather conditions, safety, equipment or pole replacements, the bulk of outages reported, etc. On average, outages can last around 2.5 hours, but each outage is unique. Once the crews locate and access the issue, we oftentimes have a better idea of how long Members could be without power.
When large outages occur, look for updates to be posted on our main social media channels: Facebook and Instagram.