full width paragraph
Residential Rates:
The Service Availability Charge is $27.00 per month for residential single-phase service and $39 per month for residential three-phase service. This charge covers a portion of the costs necessary to provide your home with electricity, regardless of how much electricity is consumed.
| Energy Charges/kWh | Rate |
| --- | --- |
| First 120 kWh | $0.1314 |
| Next 1,280 kWh | $0.0954 |
| Excess kWh | $0.0934 |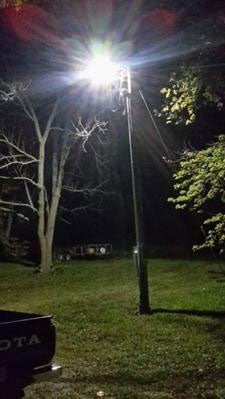 full width paragraph
Yard Light Program
Yard lighting for your peace of mind...
Dusk-to-Dawn lights are available for installation on Farmers' Electric poles.
The Cooperative will install and maintain a Light Emitting Diode (LED) light on a meter pole or transformer pole at your location. The installation is free. The light is installed in front of the meter and does not contribute to the Member's electric bill. The member pays $8.75 per month to have the light. The cooperative is responsible for any repairs that may become necessary, including bulb replacement and photocell replacement. 
 Key Benefits:
Have yard lighting around your home from "dusk-to-dawn".
Pay a flat rate for the lighting service.
No initial cost or maintenance costs that would be associated with self-owned lighting.
full width paragraph
Surge Protection Program
Farmers' Electric Cooperative offers a surge protection program designed to protect member's appliances and electronic equipment from lightning and other sources of electrical spikes and surges.
The leased package contains:
A meter base surge protector.  The unit is specifically designed to prevent external catastrophic, high-voltage spikes from entering the home.  It reduces potentially damaging voltage spikes to "manageable" levels.  This unit meter base mounted by cooperative personnel or a designated representative.  The Member cannot install this unit.  This service entrance device provides a downline warranty, up to $1000 per appliance with a $10,000 maximum, on standard electro-mechanical products (washer, dryer, refrigerator, freezer, HVAC unit, electric stove, oven, etc.) if the service entrance device fails in conjunction with the Member's equipment failure.
Farmers' Electric Cooperative strongly encourages Members who participate in the Surge Protection Program to obtain additional protection for other systems that may be connected in some manner other than the electric service. (i.e.  phone service, cable or satellite TV)  Individual devices for these systems are available commercially and can be installed by the member. 
ALL WARRANTIES ARE THROUGH
THE MANUFACTURER!
Give us a call today to sign up for either of these services!